JOIN THE MOST IN-DEMAND SECTOR IN THE COUNTRY
Our business has not only survived COVID-19, it has thrived. And we've supported hundreds of people along the way. Recession-proof and pandemic proof, Visiting Angels is the care business of the future.
Why and how to continue to grow through challenging times
Whilst many industries and sectors are looking for their 'new normal' the care sector has continued to grow throughout the pandemic. Visiting Angels has seen a dramatic increase in both the demand for our services and for our franchise opportunity, as the entire nation has turned to social care companies for support.
2020 Q2 growth snapshot:
20% increase in business
Franchise network doubled in size
8 franchisees trained in the last month
First UK office delivering over 1200 hours of care a week
Industry leading staff retention levels
Carer applications at an all-time high
Nationwide recognition and demand for our essential services.
The opportunity in the market
The care sector has always been a growing market, and it always will be. The coronavirus pandemic has further added to both the need, and the opportunity, for a business like ours. Society continues to change its view on the type of care that individuals and loved ones should receive; the feeling being that people are safer at home. As such, demand for the Visiting Angels service is set to keep rising, now, and into the future.
31% of people now say they are less likely to want
relatives to be put in care homes*
Care has always been big business. Outside of the current situation, increased life expectancy, better living conditions and pharmaceutical advancements mean people are living far longer.
By 2024, more than 20% of the population will be aged 65 and over
1.9million people in the UK will be over the age of 85
A staggering 2.5million people in the UK will be over 85 by 2035
Whilst increased life expectancy is to be celebrated, old age brings with it a plethora of complications to health and wellbeing. Calling on the services of a care company is no longer a last resort, it's a necessity.
*Research conducted by Hanbury Strategy, with support from the charity Independent Age in April/May 2020
The P-word
Profit. It isn't a dirty word. It's okay to want to make money in the care sector. At Visiting Angels, we trust that you want to make a difference too. We are confident that if you follow our model and employ our values you can replicate our results.
Six-figure turnover by the end of year one
£1million turnover in year three
Net operating profit of between 15% and 20%. 
The low-down on visiting angels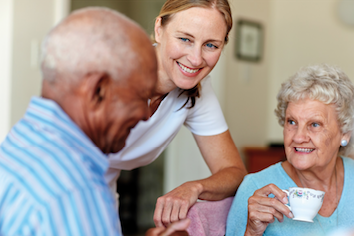 Established in 1998 in the US

  600+ franchisees operating in five countries

  Global care giant with community-based values

Launched in the UK in 2017

  First UK office won 'best international franchise' in under 12 months

  Shortlisted for the Great British Care Awards 2018

  15,000+ clients and provide work to 16,000+ caregivers worldwide


A care franchise. Done differently.
We've achieved global success by doing things differently: we put our carers first, with great rates of pay and work-related benefits so they can achieve real work-life balance. Something we call being career-centric. Why? Because only happy, loyal carers can give their all to clients. Many companies say they put their carers at the heart of their business, very few actually do it.
It's no secret that carer recruitment and retention is an issue for UK companies. After 20 years, we know how to attract the right people and, crucially, keep them. Our staff turnover rate is already almost half the UK average.
Training, mentoring and support for life
Setting up a care business is a complex process. That's why we're with you every step of the way. And this is where our international size and scale really comes into its own. Our intensive training course includes a week at our Worldwide Headquarters in Philadelphia* plus a week at our UK Head Office. We provide regular, ongoing training for the life of your franchise. A combination of e-learning, live webinars, group and one-to-one sessions provide a comprehensive programme, designed to help you to be the best business owner you can be.
Pre-launch support: prior to launching your business, our expert team will guide you through essential set-up tasks like CQC registration, locating suitable premises and recruiting your Registered Manager. We focus on marketing and networking at this stage too.
12-week jump-start programme: upon launch, this intensive programme helps you get the best possible start.
Business support programme: we pledge to support you from day one, but most importantly, we'll continue to support you for the life of your business.
*during lockdown restrictions, the US portion of the training is being delivered virtually.
Join the movement
We are proudly different, proudly carer-centric and proudly changing the lives of our franchisees, carers and clients. So, if you:

  Love the idea of owning a care business that does things differently

  Feel caregivers deserve to be celebrated and championed in our society

  Want to build a loyal team through respect, reward and recognition

  Believe that happy careworkers will deliver the very best service and support to clients

  Know that profit isn't a dirty word but want to make a difference too

  Want to help change the care industry, for good…

…then you sound like a Visiting Angels kind of person. And we would love to hear from you.
Request Information
Kya Safari – East Nottinghamshire
Kya talks about her passion for care and community. After caring for her sibling for a year she related to the needs of the vulnerable in a personal way. Learn what drove Kya to start her own care business as a franchisee with Visiting Angels.
Gareth Redmayne- South Hertfordshire
What made Gareth - a healthcare professional with years of international experience choose Visiting Angels? The answer, as Gareth puts it - " We treat our Caregivers like family and our clients like Royalty" . Learn more about the support provided by Visiting Angels to their franchisees, the values we hold and what makes us different
Hammad Cheema - West London
One of our best performing Franchisees in the network- Visiting Angels West London is led by Ex Investment Banker Hammad. Watch him talk about what attracted him to the business model of Visiting Angels and made him chose us over any other Care Providers.
Care Professional Spreads her Wings: Lynn James – North Surrey
Right from the age of 19, Lynn James worked in health and social care – starting her career as
a nurse and working her way up to launching and running her own care franchise in 2020. Whilst working as General Manager for the UK's largest Home Instead care franchise, Lynn had ideas of her own about how true quality care could be delivered. Then she discovered in-home care franchise Visiting Angels, giving her the option to spread her wings in her own care business in North Surrey.
"I suspect a lot of people thought I was mad to launch a care business in the middle of a pandemic. The reality of it is that it just highlighted the important role that caregivers play in communities across the UK."
Caring at Heart
The passion for care was evident right from Lynn's youth. After spending many years in nursing, she secured a job with the Alzheimer's Society, responsible for directly supporting families affected by dementia and developing support services that made an impact. It was in this role where Lynn came into her own and, after 15 years, she was ready for a change, becoming an Activities Coordinator at a care provider. Her passion grew stronger, and she knew she could make a difference in the care world.
Lynn has experienced all aspects of care, spotting opportunities for improvements as she progressed. Her experience at Home Instead was a common one. Battling issues with underpaid and underappreciated caregivers, rushed client visits and a stretched workforce, Lynn came across a franchise opportunity that offered a different approach.
Why Choose Visiting Angels?
"When I started to research Visiting Angels, I realised that it was the answer I was looking for. Home Instead were addressing the typical issues of care provision and doing a great job but Visiting Angels operated in a different way: placing caregivers at the heart of the community. It's engrained into their culture to value staff and that resonated with me massively." Lynn James, Visiting Angels Franchisee
Strength and Determination
Even when the COVID-19 pandemic caused the entire world to shut down, Lynn was even more determined to proceed with her plan. With the backing of her husband Chris and the passion for making a difference in her local community, she attended her franchisee training in June 2020.
"I was excited to get on with the initial training and set the wheels in motion for something that I had been considering for so long. It was great to get a grasp on how the business works, what it involved and how I could follow in the footsteps of the success of the Sheffield franchise. It just made me even more eager to start changing lives."
In preparation for her business launch, Lynn was equipped with all the business know-how to hit the ground running. Whilst waiting for approval to operate from the Care Quality Commission, Lynn focused on generating a buzz around the business arriving in the community and what support they could offer to local residents. On July 7th 2020, her registration went live, and Lynn wasted no time in securing client contracts.
A Flying Start
"After six months, we had signed 10 clients and were comfortably delivering over 350 hours of care a month. I had set myself a goal of offering 25 recruitment opportunities within the first year of my business – halfway through, I had 15 carers and two office team members. Once we've hit a year milestone, I'm confident that all targets will be exceeded.
"The future of the business is looking extremely positive. It sounds corny, but I'm constantly looking forward to meeting the next client and providing them and their loved ones the support I know will make such a difference to their lives. That's what really puts a smile on my face."
It's not just Lynn's passion for care that has increased, it's also had an impact on her overall sense of purpose and wellbeing. After investing her life savings into something she believes in, it's given her the confidence and drive which is working wonders for her personal life too. With Chris supporting the day-to-day running of the business too, it's made the world of difference to their relationship.
"We make a great team and complement each other well with our varying skills. When we're not working, we enjoy spending time with our youngest son and dog, going on walks and getting out and about. I'm also part of three book clubs and I absolutely love it. I understand that the first year of my business will require a lot of time, but once the foundations are built, I know that's when I'll be able to reap even more benefits.
"I don't see what I do as work, it's more of a vocation. I'm finally pursuing my dream of running a business and it's all taking flight thanks to my passion for caring for people. Visiting Angels is here to make a change in the provision of care and I'm proud to be part of the team who's leading the way."
The true power of following a franchise model: Andrew and Helen Lofts – East Staffordshire
For many years, husband and wife Andrew and Helen Lofts had grown tired and disillusioned with their work. It was only one day when they realised there was more to life than starting the day at 4am and not returning until late evening that they started to consider what their next steps were. A trip to a franchise exhibition gave them the answer in the form of in-home care franchise Visiting Angels. With its strong focus on ethics and company values, the pair recognised the true potential to be had in a service like no other – opening their own office in East Staffordshire.
Care is a growing need
"It was clear that care is a growing need," said Andrew. "Not just during the pandemic when
we launched, but with the ageing population and people now opting for more personal care for their loved ones, Visiting Angels provided the solutions to problems that have become prevalent in the care industry. Neither of us had any prior knowledge of the in-home care sector, but with the franchisor's expertise, we've been able to replicate the successful care delivery model in our local community."
With his 20-plus years' experience in change management, Andrew had progressed to senior leadership senior roles within global companies. However, with that responsibility came the need to travel internationally on a regular basis. Helen, on the other hand, had spent years at a global engineering company as an executive PA and then eight years managing a hotel whilst raising their two children.
Completely unaware of each other doing so, they both started looking at potential franchises they could invest in. It wasn't until they both revealed their intentions that the pieces of the puzzle started to fit together – they were both on board with franchising and decided to take it further.
How did it happen?
"We decided the best thing to do would be to visit a franchise exhibition. We didn't have any particular sector in mind, as we knew that we would be looking for a management-style franchise. Our existing skills and expertise would put us in good stead, whilst leaving the day-to-day service to the team we would manage." Helen Lofts, Visiting Angels Franchisee.
An Instant Connection
"It was there we met with Dan Archer, the Managing Director of Visiting Angels," added Andrew. "Combining our skills with the brand's commitment to changing the face of the industry for the better with its 'carer-centric' approach, we knew that this was a business we could excel at. We carefully examined a number of other brands which confirmed our decision – there was nothing else that even came close to Visiting Angels."
Established in the US in 1998, Visiting Angels is one of America's largest care franchises, with over 700 franchisees operating in five countries. The first UK office launched in late 2017 and became the country's first 'carer-centric' in-home care provider. Dan Archer spearheaded the brand's development as UK franchisor and Managing Director of the Sheffield pilot franchise territory. Within a year of launching, Dan and his team were awarded Best International Office at Visiting Angels' annual conference in Philadelphia, cited as the fastest-growing office in the brand's history. It's this success that franchisees are championed to replicate.
The pair attended their franchisee training in June 2020. This was their chance to get to grips with running a care business, whilst giving them an introduction to the care industry as a whole.
"Although the information was fed to us virtually, it worked extremely well, preparing us for the business launch. It was delivered in digestible chunks that set up a foundation for when we could begin with our service. Perhaps the greatest part though was seeing other franchisees starting their journey too – we could support one another throughout the beginning stages, and it's something that we still do today."
Whilst waiting for approval to operate from the Care Quality Commission, Helen focused on networking within the local community. Her efforts paid off as, when their registration went live on 1st September 2020, they already had a client waiting to get going with their service.
 
The Right Way
"We understood what had to be done to make the business a success – by following the model and replicating what Dan and other franchisees were doing, we too could build a great business. Along with the support of our amazing Registered Manager, Arnna, we're well on our way. After six months, we had signed 12 clients, with 12 caregivers within the team. We're comfortably completing over 225 care hours per week, which places us six months ahead of our original plan.
"I think it just goes to show that, if you follow the model, then there's no reason not to do well," Helen added. "We knew of the demand for quality care in East Staffordshire, so it was our chance to seize that opportunity and provide a service that families were crying out for. And it's paid off."
Whilst the pair have built the solid foundations of a successful business, they understand what is needed to take it to the next level. In order to grow, they will focus on delivering a great quality of care, rather than a larger quantity of merely adequate care.
"That's our unique difference to other providers, and it works," said Andrew. "During the pandemic, maintaining that great quality standard of care did take effort, more PPE and further training for staff, but thanks to the robust franchise model – not forgetting the country crying out for our services – we managed to build the foundations of a successful business. If we can do it whilst facing the worst economic crisis of the past decade, then we're extremely excited for what's to come.
"People might have thought we were mad going into business together as a married couple, but the truth is we have complementary skills that spread across all of the daily operations. It's helped with our personal relationship too, as we are happier and feel more fulfilled than we did before. We can now see that what we're doing is making a difference, and our confidence for the future is extremely high."
Helen concluded, "Visiting Angels has completely changed our lives for the better. If anyone was to ask if we would do it all over again if we could, we'd reply with a resounding 'YES!'"