Valerie Highton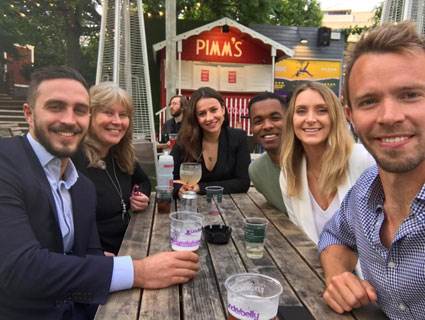 Armed with integrity and belief in herself, Valerie has gone on to build a portfolio of seven HMOs with Platinum
Joined PPP: 2014
Previous Career:Mum
Portfolio Location: Weybridge, Surrey
HMOs: Seven
Biggest Benefit: The Platinum network
'You have to be super rich to invest in property through a franchise like Platinum'.
It's a misconception we hear all the time – and one Valerie Highton's inspirational story proves is simply not true.
"I had very, very little money," smiles Valerie. "But what I did have was integrity and I believed in myself."
Valerie joined Platinum in 2014 after going through what she describes as a "very bad" divorce, which led her to re-evaluate every facet of her life.
STARTING AFRESH
"I'd been out of the job market for 25 to 30 years," recalls Valerie. "I have no computer skills and no tech skills, although I do have a degree.
"I'd brought up my family over that time, although I had refurbished the properties we'd lived in as a family and I had a real affinity with people in their twenties as my kids were that age and all living in rental properties.
"I wanted to do something with the money I did have, and I was keen on franchises because there's a better chance of succeeding. I knew I had to do something on my own, because nobody was going to employ me!
"So, I went to a franchise fair to look at letting agency franchises, or property inventory businesses because I had that affinity with the kind of demographic that rents property.
"But I walked around the corner and there was the Platinum Property Partners stand…"
SACRIFICES FOR SUCCESS
Valerie purchased her first HMO in January of 2015 and has gone on to build a portfolio of seven properties just outside Weybridge, Surrey, where she still lives.
But her starting position was uncommon among our Franchise Partner network, with her funding tight and her investment area expensive.
"Property is very expensive in Weybridge," she laughs. "I probably shouldn't be doing it in that area, but it was important to me to stay close to home as it was just me and the children at that time and I wanted continuity for them.
"When I did my purchase mentoring with Mike Dixon, we looked at Horsham and Crawley, but they were too far away, and I was actually concerned that the clapped-out Volvo I was driving at the time wouldn't make it to those locations!
"I ended up renting a two-bedroom flat and sleeping on a mattress on the floor in the lounge for two years because I was so desperate to make what I was doing work."
---
Dominic Hegan
After joining Platinum at the start of the pandemic, Dominic is already eyeing his third HMO property
Joined PPP: 2020
Previous Career: Divisional Regional Manager
Portfolio Location: South West
HMOs: Two
Biggest Benefit:Capital working harder
When it comes to new best friends, Dominic Hegan is unable to choose just one.
In fact, he's got three – and all of them have one thing in common: Platinum Property Partners.
"I joined Platinum in January 2020," says Dominic, "which was an interesting year to do it!"
But before we get into the logistics of property investment during a pandemic…
A MAN WITH A PLAN
Dominic's journey with Platinum actually began back in the earlier part of 2019, however, when he decided to take early retirement from his corporate job and started looking at ways to invest his pension pot and savings
"My plan was quite straight-forward," he recalls. "I was going to take the tax-free cash out of my pension, use some of my savings and buy some single buy-to-let properties.
"I already had two buy-to-lets which I thought were giving me a pretty decent return, but your perspective can really change when you learn about the kind of returns you can make from HMOs."
A GREAT RECOMMENDATION
Dominic sought advice from a former colleague, Cathy Colston, who he knew had explored a more specialist area of property investment since leaving the corporate rat race behind herself.
"I knew Cathy had done a load of property stuff and I thought, 'before I go and buy some more myself, I'll give her a call and pick her brains to find out if there's a better way I could do it'."
A lunch date followed, where Cathy gave Dominic the lowdown on everything she'd achieved since joining Platinum back in 2011
"I then had a chat with Mike Hedgecox, Platinum's Executive Partner, and talked through what the franchise offered so that I wasn't wasting anyone's time by attending a Discovery Day," says Dominic.
"Everything Mike said backed up what Cathy had told me, so I went along to a Discovery Day with my wife Lisa in September 2019 to really delve deeper into the franchise model."
PUSHING ON AS PLANNED
Four months later, the Hegans were fully-fledged Platinum Franchise Partners – but talk of a new virus sweeping across Europe was already intensifying.
"When we attended the Discovery Day, nobody had heard of the word Covid," recalls Dominic.
"We joined in January and had mapped out a really clear plan for the next 10 years, but by March everything was up in the air to say the least.
"We'd had our purchase mentoring with Mike Dixon and looked at eight houses on the first day and then another four on day two.
"By the end of day two, we'd decided to buy two houses, went sale agreed and were steaming ahead with our plans.
"But when the lockdown arrived in March, we hadn't completed on either of them and it was quite a difficult place to be for a while.
"I was thinking, 'I've invested in the franchise, have some really clear plans and know what I'm doing – but can I actually do it now'?
"Moreover, was it the right thing to do, investing more than half a million pounds in property when so many people were saying the bottom was going to fall out of the market?"
Dominic pondered putting his plans on ice for 12 months to watch the pandemic play out, but a further chat with Mike Dixon quickly made him see the bigger picture
"I had a long chat with Mike," he recalls, "and I then realised that the whole point of developing HMOs in this way is to provide a long-term income stream, rather than purely capital growth.
"The Platinum business model is based on that lifelong income, with capital growth as an added bonus if you get it, so we decided as soon as the lockdown was lifted, we'd crack on."
THE MAGIC OF MENTORS
Those new best friends quickly became hugely important to Dominic – firstly, Mike Dixon.
"We looked at so many houses during our purchase mentoring with Mike," says Dominic, "and there were three or four that would have worked really well for us.
"Mike's advice was key and as one of the properties was a really light refurb, he suggested that we go with an HMO mortgage on that one right away, meaning we could actually buy another for cash at the same time."
Next up was refurb mentor Kim Thorogood.
"I think Kim probably got to the point where she dreaded seeing my number flash up on her phone," laughs Dominic.
"I had all sorts of questions about the refurbs that I should probably have known the answer to, but I didn't. You learn very quickly from people like Kim, though, and I almost feel I could do the next house solo."
Both of Dominic's houses were completed and styled using Platinum Power Team member Hedgehog Studios, and ready to launch in September 2020 – quite an achievement in the year of Covid.
"Hedgehog did the design and fit-out and then did a photoshoot for us at the first house – within two weeks of the rooms going on Spareroom, we'd let every one of them," smiles Dominic.
"Our final tenant at the second house moved in during November, so we had 100% occupancy from November – 12 rooms, across two houses, bringing in a return that's well in the upper end of double figures."
That's where best friend number three came in…
"It doesn't matter how well you choose a house and how well you refurb it if you can't tenant it," says Dominic. "And that's where having a lettings advisor like Rachel Lewis is worth its weight in gold.
"I had two buy-to-lets already, so I had some experience of renting out property, but Rachel made sure we did everything absolutely perfectly and professionally, mitigating risk and finding the right tenants, to getting all the paperwork right legally – which is far more complicated with HMOs and one of the major reasons why we joined Platinum, because you get that extra attention to detail to ensure you stay legally compliant.
"Rachel became my new best friend after Kim and Mike!
"But in all seriousness, I spent 35 years in the service industry, leading teams to deliver the best service I thought was possible.
"As a result, I've got really huge expectations, but I can honestly say everything we've received since joining Platinum has exceeded those expectations – even in the middle of the pandemic."
---
Agnes and Jonathan Goodall
Joined PPP: March 2017
Previous Career: Corporate Finance
Portfolio Location: Teesside
HMOs: One
Biggest Benefit: Flexibility
A greater return from property than corporate life in Teesside
That was the goal for Agnes and Jonathan Goodall, the first Platinum Property Partners investing in Teesside. Following a ten-year career break to bring up the couple's two children, Agnes was now eager to get back to work.
But, after 18 months working part time in corporate finance, she realised it wasn't what she wanted to do. It just wasn't flexible enough.
Jonathan, who has been working back in the family warehousing and retail business for 11 years, after running a successful photography studio in London, suggested they go to a franchise exhibition.
"It was really to get ideas and inspiration; see what the next big thing was," added Jonathan. "Whilst there we came across a High Net Worth panel debate, where Paul Watson, franchise partner and Platinum mentor, was taking part."
It was enough to encourage the couple to talk to the team on the stand, and already having an interest in property and wowed by the HMO (Houses in Multiple Occupation) concept, they booked onto a Discovery Day the same month. However, their main concern was whether the model would work in Teesside.
Working closely with the team at the Platinum Head Office and speaking to nearby franchise partners in Newcastle and Warrington, Agnes and Jonathan were convinced they could build a profitable portfolio in their area. The only other reservation they had was the franchise fee.
Jonathan added: "We had the capital to do it ourselves, even if we ended up paying the price for a few mistakes. But we thought, why go through the pain of trying to learn it yourself when you have people who can teach you not just how to do it, but how to do it right?
We were also conscious of the pressure doing it on our own would put on us as a couple. Joining PPP would mean there'd always be information or someone available to help & support us.
They concluded that the fee was a positive thing and represented a barrier to entry that highlighted how difficult it would be to build a portfolio on your own.
The couple joined in March 2017.
Their first property completed refurbishment at the end of January. What was originally a 4-bedroom semi-detached house is now a 6-bedroom HMO with four ensuites and one shared bathroom. The plan for the next five years is to build a portfolio of five HMOs generating a combined £70,000 annual gross profit.
Jonathan added: "Being part of a franchise, the burden is still yours. But with Platinum, all the benefits are yours too".
For Agnes, she has finally found the flexibility and enjoyment she was craving.
She concluded: "It's a business I have been able to build around the needs of the children and I'm setting a good example that there is an alternative to having a job. I'm certainly getting more value for my time and this value could go on for generations to come."
It's been fantastic, everything from the mentoring to the bootcamp, Foundation Lettings Course & Workshops have been brilliant. There's a lot of information to absorb but it's been a fun rollercoaster ride.
Some of Agnes and Jonathan's properties:
---
Gertie Owen
Joined PPP: 2010
Portfolio Location: London
Biggest Benefit: Substantial income for life
Using a proven system for investing in property
Gertie Owen joined PPP in August 2010. After 20 years of looking after her children and being, in her own words, "a lady of leisure", Gertie wanted a new challenge.
As her children had grown into young adults, Gertie found herself with increasing amounts of free time. Around the same time Gertie's husband was made redundant, so there was a potential need for an additional income stream.
PPP appealed to Gertie as it offered a proven system to begin investing in property, providing cash flow as well as a growing asset base. Gertie had no previous buy-to-let experience, but with support and guidance on hand whenever she needed it, PPP offered the ability to achieve the income she wanted with the challenge she was looking for.
Since joining PPP Gertie has bought, refurbished and fully tenanted four HMO properties and has just bought her fifth, meeting her personal target. Gertie has gone from having no experience of buy-to-let or HMO property development to the 2013 'HMO Landlord of the Year', awarded by Landlord & Buy-to-Let Magazine. Gertie is in good company – the award's previous winner held the title for the last three consecutive years and is a Director of the Residential Landlords Association.
Speaking of her triumph at the awards Gertie said: "The awards evening was really special, it was wonderful; I had lots of landlords telling me I inspired them to do more for their tenants, after hearing what I do for mine – and I've been a landlord for less than three years. It was a dream come true to win and I was delighted to have my hard work and caring attitude towards my tenants be acknowledged, I feel being part of PPP has made me the landlord I am. It taught me so well to be the best, and I couldn't have done it without them."
"When I joined PPP my 5 year goal was to earn £100,000 per annum. After just about 3 years I was already earning £126,000 per annum."
Gertie believes what sets her apart from other landlords is the way she cares for her tenants; "I show it in all the things I do, from decorating all my houses at Christmas so it feels like home for them, to giving each tenant a Christmas present and also hampers to share. I take note of all their birthdays to make sure I give them cards and give them all eggs and cards for Easter. When doing viewings I always pick them up from the station and I do my best to match the personalities in my houses, so they become good friends."
The financial benefit has exceeded Gertie's expectations: "When I joined PPP my five year goal was to be earning £100,000 per annum, but after just about three years I was already earning approximately £126,000 per annum. That's now nearer £150,000 per year so I feel a great sense of achievement."
---
Kelly & Simon Merry
Joined PPP: January 2018
Previous Career: Teachers
Portfolio Location: Rugby
HMOs: Two
Biggest Benefit: Time for family
From science teacher to self-made and sustainable professional property investor
Everything changed for Kelly and Simon Merry when they had children. The couple had met at the school they worked at – Kelly as a science teacher and Simon as a systems manager – and both were highly dedicated to their jobs. When their first daughter, Louise, came along, Kelly found she was burning the candles at both ends; and by the time their second daughter Charlotte had arrived, Kelly knew something had to give.
She loved her job, but she didn't want to be married to it, and felt bad that she couldn't give 100% anymore. Job satisfaction was important to Kelly, as was being there for her daughters, but what alternative was there?
Assessing their finances
Both Kelly and Simon were on decent salaries and had made shrewd investments in their own homes when they were younger. Moving in together and subsequently upsizing made them accidental landlords of three buy-to-lets, all with low mortgages and a lot of equity.
Attending a Platinum Discovery Day and a meeting with the Managing Director helped Simon and Kelly to understand their wealth profile and finance options for starting their portfolio, which made their HMO (House in Multiple Occupation) dream accessible. However, it wasn't until their visit to the head office that Kelly was convinced to join.
Kelly added: "That's really when we made the final decision that it was the right thing to do. the point where we got completely sucked in. It quantified the size of the business and support available. We were blown away by the warmth, energy and positivity of the people who worked there. You could see they enjoyed it and I thought, 'if we can't join as Franchise Partners, I want to work here!'. The Partnership Team were also really helpful and patient, answering all of our questions and putting us in touch with the right people."
Leap of faith
In January 2018, Kelly and Simon officially joined after re-mortgaging all of their properties, including their own home, to raise enough money to start building their HMO portfolio. And as early as purchase mentoring, they were able to see the value of the franchise fee. Kelly explained: "I was keener on a property closer to home, which without Platinum's advice, we would have bought only to find out later that we wouldn't have been able to extend."
Luckily, they went sale agreed on another property just 10 minutes from where they live in Rugby. Kelly worked part-time until the refurbishment started on their first property. They also made some lifestyle changes and accepted that bigger mortgages meant they might have to give up on things like family holidays for a while, but that it was all for the long-term greater good.
Before the first property was even finished, Kelly and Simon had all six rooms committed to and are now achieving a 15.5% return on investment. Their second property, which will be five bedrooms, was finished in December 2019, after which Simon will give up work completely. He'd already gone part time to help Kelly manage the properties as they do all of the cleaning, maintenance and management themselves.
Giving back to the PPP community
Just 18 months after joining, Kelly was approached by Platinum to take on the role as a Regional Coach. The team felt her enthusiasm and willingness to help others would facilitate regular workshops for Franchise Partners in her area and therefore she now acts as a liaison between them and head office. She's already working on the agenda for their next Regional Workshop and getting ready to welcome and support new Franchise Partners coming into the franchise.
"The change to our work-life balance has been phenomenal already," said Kelly. "We can clock on and off when we want to, work around our family and friends and more importantly, provide consistency to the girls. We're basically living and loving life."
With their first HMO up and running, Kelly and Simon probably spend about five hours per week on management and while refurbishments can be more intense, they still have the flexibility they always craved. They answer emails and calls when they want to, have free weekends and go to sports days, help on school trips and are hands-on with school projects.
The short-term plan is to get to five properties and then after that, they will have the freedom and flexibility to make even more choices.
---